Breedcharacteristics
The roots of the Welsh Springer Spaniel can be found in Great-Britain, to be specific in Wales. In the 19th century the Williams of Ynys-Y-Gerwn family bred and hunted with the red and white Springer Spaniel. They lived in the Neath Valley. Mr. Williams was one of the most important persons who took care that the Welsh got recognised by the English Kennel club as a breed on its own, so in 1902 there were beside the English Springer Spaniel also the Welsh Springer Spaniel. As far as we know in 1908 the first Welsh Springer set foot on Dutch grounds but was of no importance for the breed in Holland. Beginning fifties a few Welsh came to Holland, mainly for hunting, and in 1955 the first litter was born in Holland. Still breeders buy dogs in the United Kingdom, but in the seventies a great number of Welshies was imported and most Welshies from this time are related to them. At this moment more than 3000 Welshies were entered in the books by the Dutch Kennel Club over the years and we asume that there are around 1700 Welshies alive. We don't have many breeders but a number of 160 puppies a year is the average result of the past ten years. This is more than in some other countries in Europe, accept the U.K. of course. Also in Sweden, Finland, Tsjechie they breed the same number or even more puppies and in Denmark, Norway, France, Austria and Germany there are also a few breeders of Welsh Springer Spaniels.
Exterior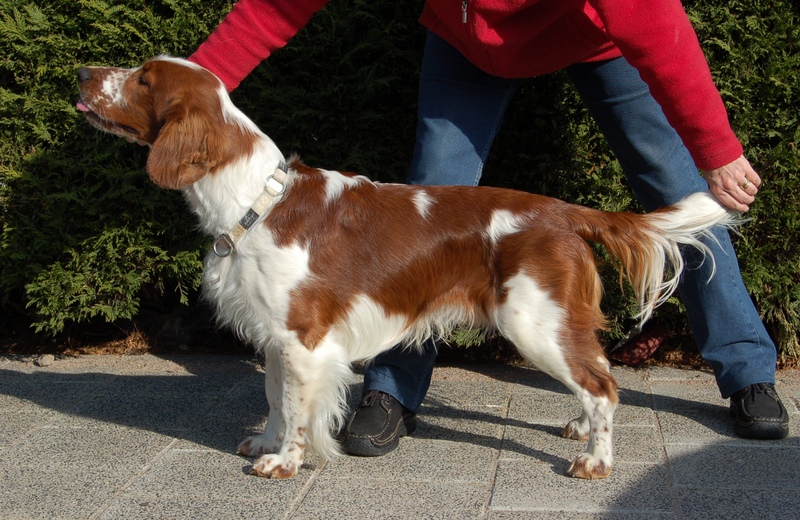 The Welsh Springer Spaniel is one out of eight spaniels and the most important characteristic is its striking coat with halflong silky hair and red and white markings. A true eyecatcher amongst the other gundogs. Their approximate heigth is 48 cms (19ins) for dogs and 46 cms (18ins) for bitches. They are built for endurance and hard work. Fortunately there is no difference between a working Welsh and a Welsh for showing but there should be a difference between a dog and a bitch. A dog has to be a real dog and a bitch is finer and has more elegance. Since 1992 the Dutch breeders in our union already decided not to dock the tails anymore so there are already loads of Welsh Springers in Holland with a tail like a Setter.
Character
The Welsh' character can be described as merry and active. They are very curious and sometimes sham deaf. Perseverance and consistent attitude are necessary for the education but never be hard. They love children and they love to play. The Welsh is a true member of the family and feels the moods. If you are looking for a watch-dog, don't rely on a Welsh. He will love every new visitor, even when the visitor is not wanted. He will wag his tail for a burglar because a Welsh is a dog who loves company and the more people there are the better. To be short, a Welsh is an ideal dog, who can give you everything you want, unless well educated of course, but this counts for all dogs.
Nutrition and care
Gundogs are dogs with lots of energy and need proportional quantity of movement. The Welsh is no exception. On a lead to the corner of the street is not sufficient, at least once a day a stiff tour and now and than a good run is necessary. If you don't have the time for this you will get a nervous, unwilling dog. Of course the tours should be adjusted to the age of the dog, rather 10 short tours of 10 minutes with a puppy than 3 times half an hour.
The coat of a Welsh is easy to treat. A few times a week of combing and brushing and 3-4 times a year to the dog groomer would be sufficient.
The Welsh is a true swimmer, no ditch is save and the more mud the better! The typical coat structure makes him white and red again in no time.
Hunting
In Wales and the rest of the U.K. the Welsh is used for hunting more than they do in Holland. Fortunate a couple of Welshies is trained for hunting and at this moment in Holland several dogs are used for hunting as well. The Welsh can be used for all kinds of work: before the shooting and to retrieve. Some breedlines will be perfect for hunting and some less but most Welshies are very active, intelligent and not afraid for anything!